When I heard that Shutterfly was doing a blog promo, I had to jump onboard…I LOVE Shutterfly! I print all of my 4×6's from their site, because they have my favorite feature of any online photo site: on the back of the picture, the date it was taken is printed! Not the date you uploaded them from the camera to your computer or the day that you uploaded to Shutterfly, but the date taken. Because I am so OCD about my pictures being in order in albums, this feature rocks my world!
My other favorite things about Shutterfly (which they aren't asking me to say: I just genuinely like this site!):
*prepaid 4×6 print plans make prints cheaper
*they are on ebates
*you can always find coupon codes to save on shipping, and you can use more than one code at a time!
I made this card last spring during a Shutterfly promo, using a picture that my friend Sonya had taken for us. Isn't it fun?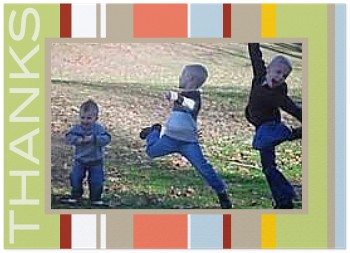 Cheerful Stripes Thank You 5×7 folded card
And I made this one for Matt for Father's Day: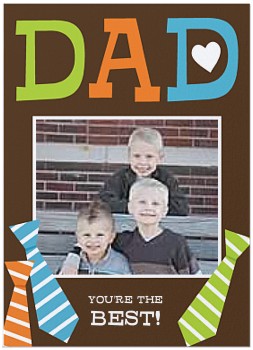 Tied To Dad Father's Day 5×7 folded card
If you have a blog and want to receive $25 credit to Shutterfly, follow the easy steps posted here.